书名:润滑存储与处理的最佳实践DVD
价格:¥2528 (不含邮费)
作者:Noria Corporation
购买咨询电话:0756-3379626-8013
咨询邮箱:renee@goodlube.cn
---
Description
Squeezing maximum life out of lubricants and extending machine life starts with putting a healthy, clean lubricant into the machine. In this training video, you'll learn the very best practices for ensuring this essential piece of lubrication excellence is in place.
Best Practices for Lubricant Storage and Handling provides procedures you can implement right away for managing lubricants from delivery to dispensing to filling the machine. You'll learn the very best practices for new oil storage and handling AND you'll use this video to train lubrication and maintenance personnel, operators, mechanics, new hires and others. VIEW PREVIEW
You Will Learn:
Format:
DVD
Length:
40 minutes
License:
Unlimited use at one facility or location
Also Included:
One student workbook
Also Available In:
Spanish
Who Will Benefit:
Course Menu
Introduction to storage and handling
Lubricant contamination risks
Receiving lubricants
Quality control
Bulk storage areas
Internal storage areas
Lubricant storage rooms
Lubricant transfer
Filter carts
Transfer containers
Lubrication accessories
Spill containment
Summary of best practices for storage and handling
Student Workbook Included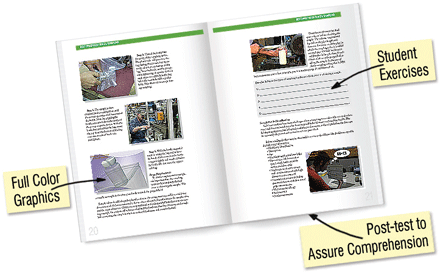 The accompanying Student Workbook was developed directly from the video script to help reinforce the information and includes full color graphics, student excercises and a post-test to assure comprehension.
One Student Workbook is included with each training video. You may order additional workbooks in quantities of 5, 10 or 25:
Because each workbook includes student exercises, a post-test and an area for note-taking, it is advisable to purchase a workbook for each student.
Purchasing For Multiple Locations?
Email us
about the Enterprise Server version.