书名:油品取样的最佳实践DVD
价格:¥2528 (不含邮费)
作者:Noria Corporation
购买咨询电话:0756-3379626-8013
咨询邮箱:renee@goodlube.cn
---
Description
Correct and accurate sample collection is the critical first step in a successful oil analysis program. Without representative oil samples, oil analysis may just be a waste of time and money.
Best Practices for Oil Sampling shows you how to design and implement a world-class oil sampling program that will deliver better results and help you focus on improving equipment reliability. Make this 48 minute video part of your standard training for anyone involved in your oil analysis program and as well as new hires. VIEW PREVIEW
You Will Learn:
Format:
DVD
Length:
48 minutes
License:
Unlimited use at one facility or location
Also Included:
One student workbook
Also Available In:
Spanish
Who Will Benefit:
Course Menu
Oil Sampling Objectives
Characteristics of a Good Oil Sample
Ideal Machinery Conditions for Oil Sampling
Devices, Accessories and Methods for Oil Sampling
Locations for Installing Oil Sampling Valves
Primary and Secondary Sampling Locations
Cleanliness Requirements for Sample Collection
Purge and Line Flushing Requirements
Machinery and Lubricant Information for the Lab
Lubricant Sampling Frequency Factors
Summary of Lubricant Sampling Best Practices
Student Workbook Included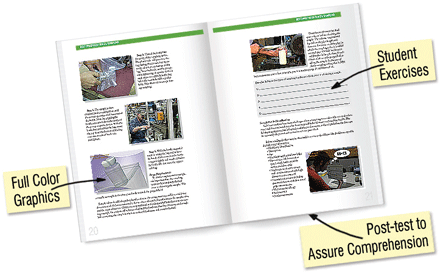 The accompanying Student Workbook was developed directly from the video script to help reinforce the information and includes full color graphics, student excercises and a post-test to assure comprehension.
One Student Workbook is included with each training video. You may order additional workbooks in quantities of 5, 10 or 25:
Because each workbook includes student exercises, a post-test and an area for note-taking, it is advisable to purchase a workbook for each student.
Purchasing For Multiple Locations?
Email us
about the Enterprise Server version.