书名:润滑基本原理介绍DVD
价格:¥2528 (不含邮费)
作者:Noria Corporation
购买咨询电话:0756-3379626-8013
咨询邮箱:renee@goodlube.cn
---
Description
Having a solid grasp of the fundamentals of lubricants and lubrication is at the core of any world-class lubrication program. Understanding lubricant functions, the differences between common lubricant types, their advantages and disadvantages, and what makes them perform or fail is crucial for all lubrication professionals. VIEW PREVIEW
Format:
DVD
Length:
37 minutes
License:
Unlimited use at one facility or location
Also Included:
One student workbook
Also Available In:
Spanish
Who Will Benefit:
Course Menu
The Importance of Lubrication for Reliable Machinery
Explanation of a Lubricants Functions Including:

Friction Control
Wear Control
Corrosion Control
Temperature Control
Contamination Control
Power Transmission

Descriptions of Friction and Wear
Demonstration of the Three Lubrication Regimes
How Lubricants are Formulated
Important Properties of Base Oils
The Differences Between Mineral and Synthetic Lubricants
Semi-Synthetic Lubricants
Non-toxic and Biodegradable Lubricants
Common Lubricant Additives and Their Functions
Viscosity Defined
Consequences of Lubricant Viscosity that Is Too High or Low
Lubricant Oxidation: Causes and Effects
Anatomy of a Grease
Advantages and Disadvantages of Grease Lubrication
Grease Properties

Thickeners
Texture
Performance
Compatibility
Student Workbook Included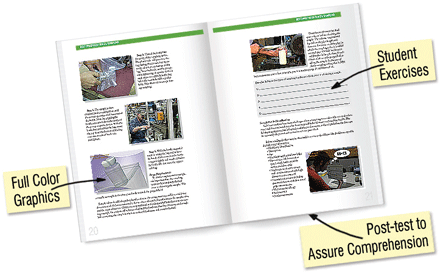 The accompanying Student Workbook was developed directly from the video script to help reinforce the information and includes full color graphics, student excercises and a post-test to assure comprehension.
One Student Workbook is included with each training video. You may order additional workbooks in quantities of 5, 10 or 25:
Because each workbook includes student exercises, a post-test and an area for note-taking, it is advisable to purchase a workbook for each student.
Purchasing For Multiple Locations?
Email us
about the Enterprise Server version.